When I went for my run yesterday, I was as always listening to podcasts. I was listening to a show that I discovered last summer called "
PureFit Radio
", can't remember how I found it, so my apologies to whoever mentioned it. It was the 2/11 episode and in it they interviewed two guests: Stefaan Engels and Ian Sharman. If the names aren't familiar then let me introduce you.
Stefaan Engels is the world record holder for consecutive marathons. He ran 365 marathons in 365 days. He just finished his last one on February 5th in Barcelona, check out the
podcast
(make sure you go for the 2/11th episode, although you might find the other ones interesting too) or his
website
for more information, pretty phenomenal accomplishment. He ran most of the marathons in 4 hrs and 15 minutes, with a few 3 1/4 to 3 1/2 hour ones thrown in when he felt like racing.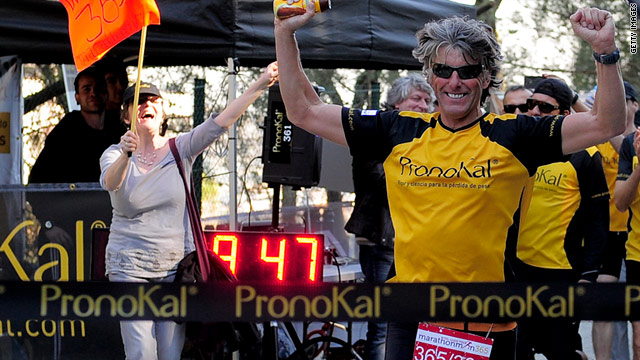 Ian Sharman just won the Rocky Racoon 100 in Huntsville, TX where he ran a record time of 12 hours, 44 minutes, 38 seconds which works itself out to 7:38 min/mile which to mean seems superhuman. I probably can't run 1 mile at that pace and he ran 100 miles at it. He is interviewed later in the 2/11th podcast or check out his blog for his account,
Ian Sharman's (mainly racing) Blog
or the account from
irunfar
.
Two very interesting stories, take a listen, hope you enjoy it.