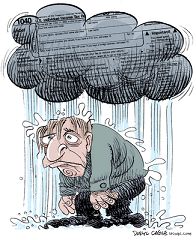 Well, here I go again. I have the St. Paul Urban Trail Marathon in 10 days and I haven't run but once in the last 12 days as my foot is preventing me from running and hurting quite a bit while I walk. I did read that I could run with my probable injury (a bruised heel, fat pad contusion, whatever...........) as if it hurts when walking then running will do no more harm. I just have wimped out and I am not motivated enough to run through the pain.
Back to the Urban Trail, my money is paid, what do I have to lose Wow this seems familiar, and training for a marathon is overrated, right?
I am hoping that in a couple of days the foot will not hurt and I can run, if not then I will need to ponder things for a few more days. After the Urban Trail marathon I will have 2 weeks to train for Moose Mountain. The nice thing about Moose Mountain is that it has a 14 hr time limit and I would need to maintain about a 30 min/mile pace to make the cutoffs. If my foot gets healed and I can run some then even on that trail, I think I can do it.
So I will need to make the no go call over the weekend. The question is do I run it or not???????